Land Rover has unveiled their 2023 Range Rover model, and it's the ultimate luxury SUV! Combining performance with timeless style, it boasts an impressive suite of features that will surely make it stand out from the crowd. From its sleek design to its advanced technology, this latest version of the iconic British SUV is a masterpiece.
Whether you're looking for a reliable everyday car, a luxurious ride for your events or a true off-road beast, the new Range Rover has it all. In this article, we'll take a closer look at what makes this SUV so special so you can decide if it's right for you. So buckle up and let's explore!
Experience the Height of Comfort: The Range Rover 2023's Luxurious Interior
Our new Range Rover rental is simply breathtaking and redefines the meaning of luxury. The interior is meticulous in detail, from the leather-stitched seating to the upgraded infotainment system that supports Apple CarPlay and Android Auto integration.
Comfort and convenience are key for a pleasurable driving experience and this car has it all. The adjustable seats provide optimum comfort for drivers of any size, while the massage function on the driver's seat helps reduce stress and fatigue.
Not only does it have comfortable seating, but it also features a host of advanced features such as ambient lighting, panoramic sunroof, and a premium sound system that takes your journey to another level. You don't just feel indulged – you become part of something greater with the Range Rover 2023.
From its silky smooth ride to its superior craftsmanship, this vehicle is the perfect combination of luxury and power that can take you places no other car could ever dream of going. Every inch crafted with precision, every feature designed to make your life easier, and each moment spent behind the wheel an unforgettable one – the Range Rover 2023 doesn't just provide you with a luxurious experience but one where your dreams can become reality.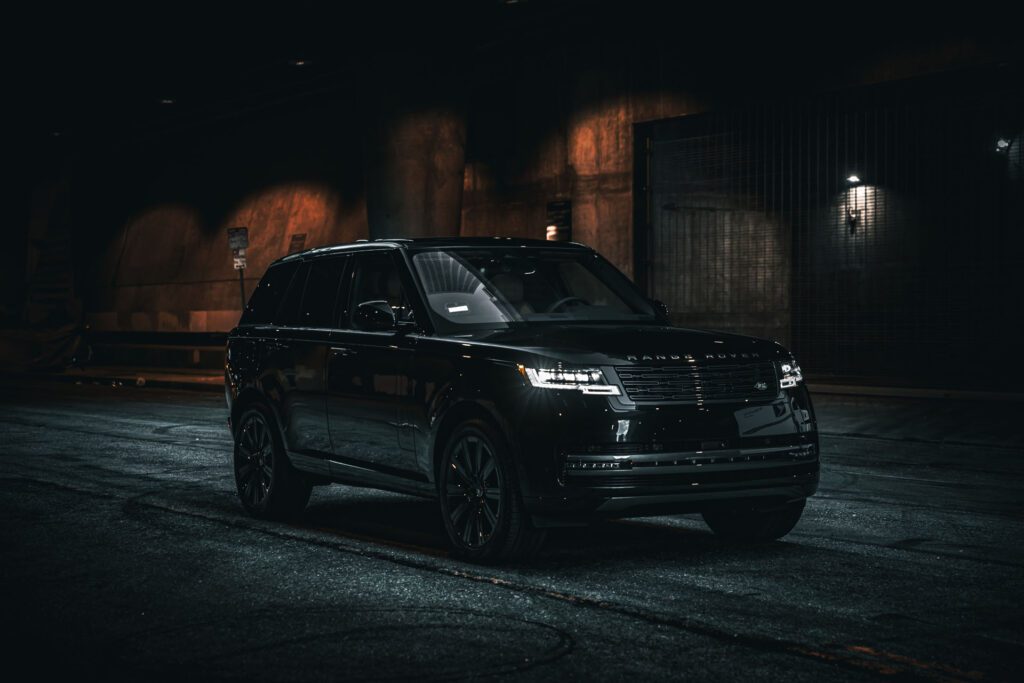 Power and Performance: The Range Rover 2023's Advanced Engine and Drivetrain
The Range Rover 2023 is the embodiment of power and performance, with a roaring V8 engine that offers smooth and quick acceleration. Its 8-speed automatic transmission ensures you get the most out of your ride. But the advanced four-wheel drive system doesn't just give you more traction on slippery surfaces; it also allows you to take on any terrain with ease.
The proprietary off-road system can handle whatever terrain comes at it, from sand dunes and mountain roads to mud pits and snowy plains.
To make your journey even smoother, the Range Rover 2023 boasts Adaptive Dynamics which automatically adjusts suspension settings depending on the conditions and your driving style. Terrain Response also helps optimize traction and stability according to the surface you are travelling on – whether it's Tarmac or an icy mountain pass.
In short, the new Range Rover doesn't just deliver in terms of power and performance; it is also equipped with features that help boost confidence in any road conditions. From its advanced four-wheel drive options to its Adaptive Dynamics system, this luxury SUV takes luxury to a whole new level when it comes to conquering nature's toughest terrains.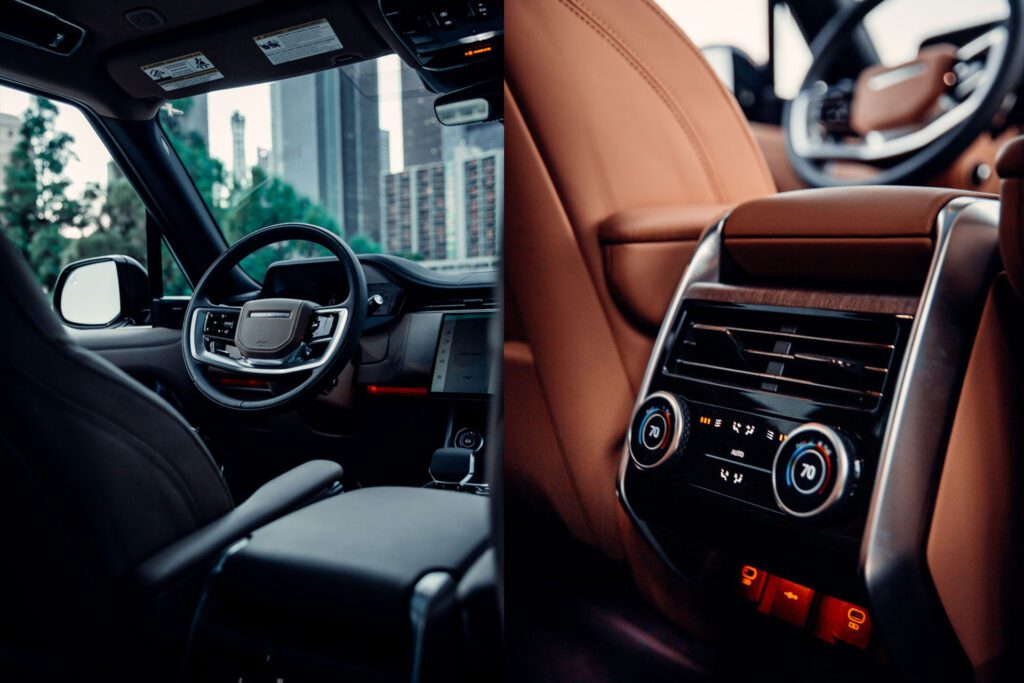 Stay Safe on the Road: The Range Rover 2023's Cutting-Edge Safety Features
The Range Rover brand has a rich history of pushing the boundaries to create an ultra-luxurious SUV with superior safety features, ensuring you and your passengers stay safe on any road. From the Lane Keep Assist system which warns you if you drift out of your lane, to Blind Spot Monitoring that alerts you when another vehicle is in your blind spot, this SUV has an incredible range of tech features to help protect you from potential hazards.
Not only that, but the Range Rover 2023 also comes packed with innovative convenience features such as 360-degree parking aid and Park Assist, which make it easier than ever to park and maneuver even in tight spaces. It also offers adaptive cruise control, allowing you to set your own pace and let the car adjust its speed automatically according to traffic conditions – perfect for long road trips or those times when you're running late! An array of sensors provide comprehensive coverage around the vehicle, so no matter what direction of travel or road conditions throws at you, the Range Rover 2023 will be ready.
Combining modern convenience with advanced safety technology, the Range Rover 2023 is an incredibly capable SUV that provides an unparalleled experience behind the wheel. Whether commuting around town or heading off on an adventure, with this SUV by your side there's never been a better time to hit the open roads!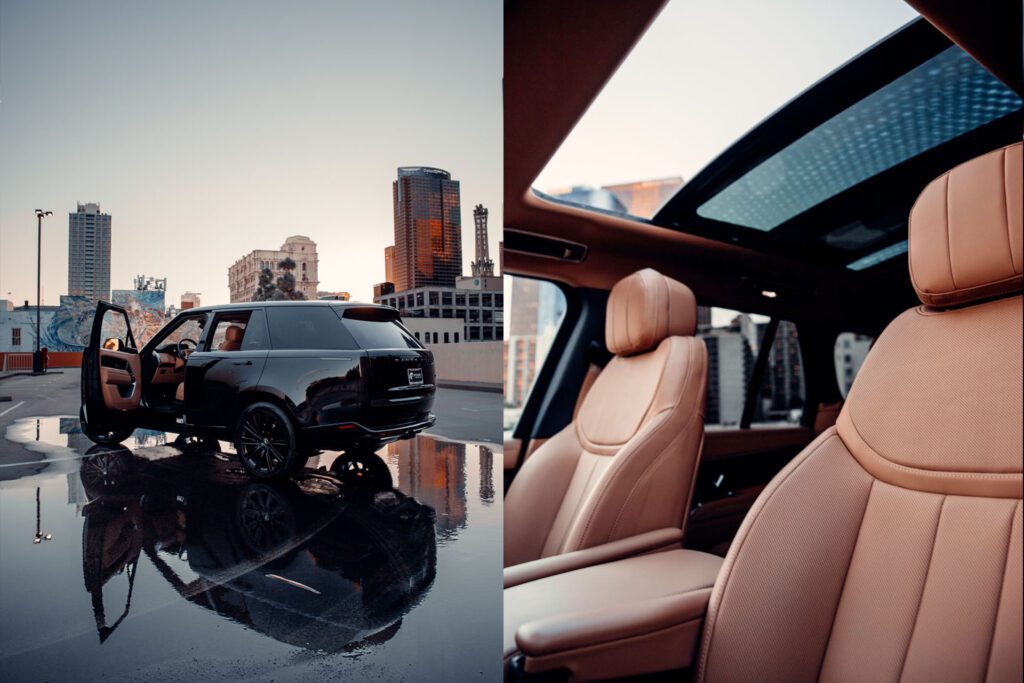 Head-Turning Style: The Range Rover 2023's Exterior Design
The Range Rover 2023 is a vehicle that exudes style and sophistication. From its imposing front grille to its signature LED headlights, the Range Rover 2023 has a bold and eye-catching look that will make it hard to ignore.
With a range of exterior color options available, you're sure to find the perfect shade for your vehicle. On top of this, its exterior is made even more attractive with Automatic High Beam Assist and Signature Daytime Running Lights, which help to improve visibility while also adding an extra touch of class.
The interior of the Range Rover 2023 is no less impressive. The cabin boasts a sumptuous design, with high quality materials and exquisite craftsmanship, creating an environment that feels luxurious yet comfortable.
It comes fitted with intuitive technology such as the Touch Pro Duo infotainment system, as well as safety features like Adaptive Cruise Control and Autonomous Emergency Braking (AEB). There's also plenty of room inside the car for all your passengers, meaning you can travel in comfort regardless of how long your journey may be.
Conclusion
The Range Rover 2023 isn't just about looks though; it also offers unbeatable performance. With two powerful engine options – including a V8 engine – you'll have plenty of power at your disposal. And thanks to the advanced air suspension systemand All-Terrain Progress Control (ATPC), you'll enjoy smooth handling whatever terrain you find yourself on.
Overall, the Range Rover 2023 is a stunning SUV that brings together style and substance in equal measure; perfectly combining form and function for an unforgettable luxurious driving experience.
The Range Rover 2023 is the perfect combination of luxury, performance and style – making it an excellent choice for anyone looking for a reliable family vehicle or a luxurious ride for their weekend getaways. With its advanced safety systems and powerful engine, this latest version of the iconic British SUV is sure to take you on many adventures! So what are you waiting for? Get behind the wheel of our Range Rover Rental today!